Barrington NH. (603) 335-3138


...comments or questions...

updated 8:30pm 1/28/2015


Click for weather forecast

Just got a load of 30# LG "Supers".... Finally!!
We have waited a long time for these!

Yes! We have La Cretes in stock! click it --->

Reading coal, 1 ton pallets, $319 per ton.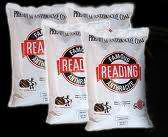 Please call before driving over, to be sure we are here,
and to verify we have what you are looking for..
We feel bad to see people make a trip over, if we can't serve them!
(603)-335-3138

Since 2008, we have striven to provide the 'local guy' type service,
that many people seek, and appreciate today.
The kind of 'old time' service that is getting harder and harder to find.
During the shortage fiasco of last spring, we are proud to say
we never ran out, and never turned anyone away, when most places in New England were OUT!

When you call McManus Coal and Wood Pellet Sales, you talk to the owner. Henry.
The same person that orders the product, answers the phone, and drives the forklift!

We believe we have some of the best quality coal and pellets available.
We stock LG Granules, LG super premium, and now, Lacrete super premium pellets.
We also sell the very popular Blaschak coal.

We do NOT sell inferior junk products, and we won't.
Our products have the highest industry ratings, and best customer testimonials.
You have a substantial investment in your stove.
Don't try to use bargain fuel in it!!
Pellets and coal is what we do!!
We want to serve you for years to come!!


| | |
| --- | --- |
| -Wood Pellets | -Bagged Coal |
| -Comparison of fuel costs | -Hardwood vs. Softwood |
| -Price Schedule | -Delivery |
| -Firewood sales | -The Coal Advantage |
Dan sez: "Stay Warm!!".. 2015